Ask yourself a couple of questions….
1) Have you attended a meeting or conference where the presenter was speaking through a PA system and you couldn't quite hear them, or it was distorted with feedback issues?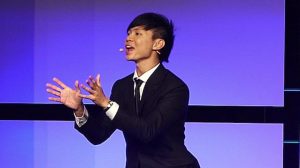 2) Have you been a guest at an event where a presentation on a projection screen or TV has shown the desktop view of the connected computer?
3) Have you ever attended a business meeting where the presenter did not engage the audience or you had trouble staying attentive?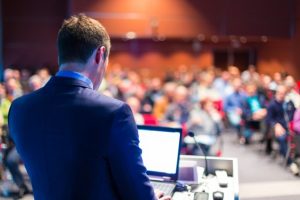 It's pretty easy to answer "yes" to at least one of these scenarios described above.  In all three of these examples, event technology has not been utilized correctly.  There are a ton of fabulous resources out there to promoting tips for successful corporate events or business meetings (we've listed some online resources below).   Many of them talk about the importance of deploying event technology correctly.  We are going to take that one step further in this article.
In our line of work we are consistently bombarded with prospective clients that simply do not know if they have a need for tech at their event.  Or, perhaps they know they there is a need but they have no clue where to start.  One of our "best bets" we share with prospective clients is to get us involved in the early stages of planning of an event.
Our mission is to work along side our clients in a partnership model as a consultant throughout their entire event process.  This sets us apart from most event tech companies as we will meet with event planners, event committees and venue managers throughout the process of planning an event and this will never show up on any invoice.  If we are brought in early and at the table during event discussions we are able to help our clients solve issues with the use of event technology.  In over 20 years of helping clients produce events we have been able to save countless hours of event planning and extra costs that would have been incurred by our clients had we not been part of the planning process.  I always tell our clients "use event technology as your friend.  Allow technology to work in your favor, saving you time and money and producing a better event for your guests."  – Owner, Randy M. Hendrixson.
Another thing we constantly run into with prospective clients is their misconception about costs for bringing in a profession audio/visual company to help with their event.  Chances are you are already renting equipment from rental companies or in-house AV providers for your event and already have event tech costs.   In almost all cases our costs to come in and help you produce your event is the same or even less than the cost of renting equipment.  We bring in all the equipment needed, we run that equipment for you and make sure that every aspect of your event is managed meticulously.  We take the worry away from you and your team as it relates to tech.
Our approach to corporate events is completely different from what you are used to. 
1) Our approach to corporate events is with a wholistic event tech approach providing everything you need when it comes to your event without "a la cart" charges.  This might sound like in some cases you are paying for what you do not need.  No worries, that is not the case and here is why:
2) Our approach to billing is unique to our industry.  Our rates are completely scalable for any event large or small.  In most cases, our event costs are $12 per guest.   This keeps things easy.  There are no hidden or a la carte costs.  You know right from the get go what your tech costs are going to be.
Some resources you might be interested in:  
https://www.eventmanagerblog.com/corporate-event-planning
https://smallbiztrends.com/2013/06/small-business-event-planning-tips.html
https://blog.bizzabo.com/corporate-event-management-guide